Lots of knitting eye candy....
An update on the "Plethora of Projects"....
The reproduction of the colours really bites- I should probably try to take the pics outside.
I'm almost done the back of Anouk, so hopefully it will be all done by the end of the week.
Anouk

The cocktail monkey bag is starting to take shape. In the picture, the bottom is up. Now that it has some shape, it doesn't slide off the needles as much, but I still don't feel comfortable taking it on the streetcar.
cocktail monkey bag
This is the yarn I bought to make a vest for Joshua, but after seeing the monkeys that
Korin
made, I couldn't resist. The pattern is from "Knitted Toys" by Fiona McTague. I requested it from the library a while back when I saw her first monkey. It's due next week, and I'm not anywhere near done, so I guess I'll be buying it!
It has lots of great patterns, so I'm sure it will get a lot of use, especially with all the babies around!
This is a pic of the finished body, and the beginning of the legs. Not very interesting yet, but I wanted to show off the colours.
monkey

This is a "sock" I whipped up for my mp3 player. I modified
this
pattern a bit, using some Lorna's Laces.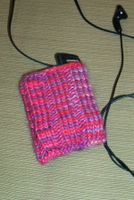 sock
These are some swatches I've knit up for the Vogue sweater I want to make. I know that Karma is right, and I should probably try to dye the yarn BEFORE I knit it..... but I'm just so anxious to get started!
I am being good about swatching though. I did four of them to and try and find what I'm looking for. It's amazing how little or big a change the different needle sizes make. I need 18 sts/24 rows, and my latest swatch is 18.5 sts/24 rows, so I think that's as good as I'm gonna get. I am going to be so good, I'm even going to give it a wash to see what happens. Maybe I should try the next 1/2 needle size up to see if I can get to the 18 sts.......
Anyway, it's Patons South Pacific DK, which I bought like 13 years ago..... it's acrylic (which could in fact put a kai-bosh on the whole dye idea) and a little shiny, so I like it. This pic really doesn't show the true colour.
And, last but not least..... this is the cheezy medal I got on Sunday!