the curse of the knitted gift
I was chatting with a co-worker about knitting the other day (as I tend to do too often!) and she brought up the "curse of the knitted gift", reminding me not to knit anything for the boyfriend (which I don't have, but she doesn't know that, I think she was kinda fishing for some gossip). I told her about my history of knitted gifts.
In university (which was the first time I got the knitting bug), I did make a sweater for a guy I had been dating for almost two years. It was meant to be a Christmas gift. The bugger broke up with me a few days before Christmas... I didn't want to look at the sweater anymore, so I gave it to him anyway. I always wondered if he ever wore it.
Before him, I had made a pair of socks for another guy I had dated. He wore Birkenstocks all the time (oh how I loved a guy in Birks!), so I thought these green flecked socks would look great with them (socks with Birks were cool then!). We too, broke up before gift exchanges, but I kept these ones. They're a little big, but make great house socks, and they look hardly worn after 10 years!
His name is Rich Skippon- so if anyone knows him, feel free to tell him what he missed out on!
The gloves for Isla are coming along well. The one light green finger looks pretty funny, doesn't it! I kinda like it. BUT......
It's way too big! Isla has little hands like me (but longer fingers), so this size won't do. So, I've redone the size for adult x-small, and am going to pull it all out and start again. Ugh.
As for Mariah- I haven't touched her. I've read other people's posts about the yolk/neckline being too big, and I can't figure out the hood thing, so I've out her down for a while. I think I'll pick her up again after the Cuba trip.
Jodi
, the designer has suggested we just try the hood without the shaping. But, it will wait until April. Considering the weather here in TO, I'm guessing I'll still need a sweater in May.
And just for fun- look what I found! This pattern in one of my grandmothers old knitting books. This hat is so funky looking- I think I need to make it! The original pattern has a pom-pom on the top- I think I'll leave that out!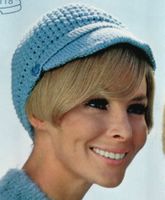 I'm going to be house/cat sitting for the rest of the week, then off to Cuba on Monday the 28th, so I may not be posting until after that!